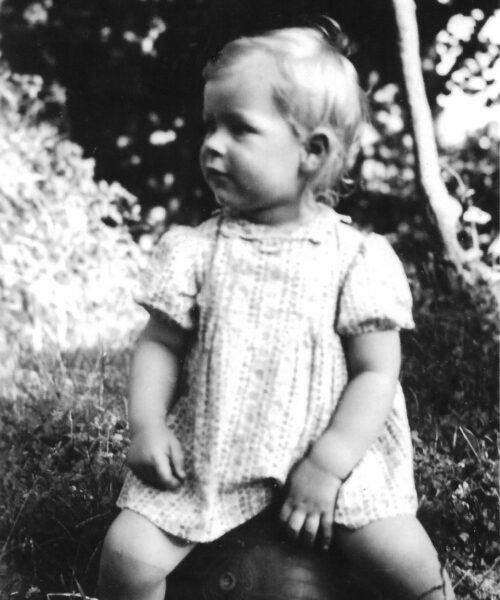 ALL SOCIETIES AND RELIGIONS IN THE WORLD have ceremonies that seem to be universal to celebrate the major steps of our lives. Even as secular people nowadays we still celebrate marriage in many forms and mourn the passing of those dear or famous. But why isn't there an official ceremony to greet a new member of the human race, separate from religious services which do not fulfil that function? Is it because the baby or infant is so young and still a possession of its parents? Now we just fill in a form in an office somewhere. It is, when you think of it, astonishing.
WHY IS THE QUESTION TO ASK, for what reason? Is it because we feel and therefore assume, consciously or not, that the little child is our property? It is after all an extension of us, albeit a noisy, demanding one, for the 'thing' has a voice, which calls for our attention. Since it is not an object, so we may not own it, While it is of us, the child doesn't belong to us; life has simply entrusted it in our hands, and we come to see that it belongs with us and that as long as it is legally a child, it is our responsibility to recognize and listen to its unique voice.Over time, the topic has been debated and fought over between couples, families and societies and in more recent times in parliaments. This is why the wisdom of nations, in the form of the United Nations, has formulated the Convention on the Rights of the Child.
THE UNCRC IS AN INTERNATIONAL human rights treaty which sets out the civil, political, economic, social, health and cultural rights of children. The convention (CRC) defines a child as a human being under the age of eighteen, unless the age of majority is attained earlier under national legislation. Nations that ratify This Convention are bound to it by international law.Compliance is monitored by the U.N Committee on the Rights of the Child Many countries (194) are party to it and it includes every member of the U.N., except for the United States, all others having ratified it over time apart from South Sudan, Somalia and the U.S., mostly for religious and labour law reasons. Compliance, however, is a different story and progress is slow, as 90% of the world's population live in countries where corporal punishment and other physical violence against children is still legal.Opponents have contended that the Convention is anti-family and that ratifying it would undermine the freedom of parents to raise and discipline their children: this, to me, comes from a standpoint of ownership and everything in me cries out against this notion: I and those who feel like me are am only too aware of the crimes perpetrated to this day in families where this stands for the law of the household and the emotional, physical and sexual abuse that too often follow.
SO HERE IS WHAT I BELIEVE we should be doing: greeting children, those born to us as well as those we adopt or foster, welcoming them publicly in a prepared ceremony at the Town Hall or our home, in front of family and friends representing society at large or in a place of worship, promising them our care, protection, and loyalty. It would be a beautiful heartfelt occasion; a public statement about our private joy as well as a declaration of intent.It would be called THE PROMISE; the equivalent of the marriage vows, but made to the child by its parents and in their own words in front of witnesses (family and friends) preferably soon after birth or adoption. It would be a public acknowledgement of our awareness and commitment to the duties of protection and nurture that we have to the new human being we have created, fostered or adopted and who is at the mercy of our goodwill and capabilities.
THE PROMISE SHOULD BE a joyful affair, a celebration – an occasion for a party! And it would spread the knowledge of the true place of the child among us. Many will wonder: "Why should I need to make an official promise to care for my child when I know I can be a perfectly good parent without having to go through this palaver?" and they may well be right. This was and is a common reaction when discussing the comparative benefits and duties of marriage and partnership and it is obvious that a public promise to be faithful or to remain together 'till death do us part' doesn't necessarily stop lies, betrayal or simply failure.
STILL, FEW IF ANY who made these vows can have regretted making them at the time. On the contrary they would have been very keen to make them, so proud were they of their love that they would have happily shouted them from a mountain top; having witnesses to this
proclamation often made that event more solemn and the commitment stronger. The significance of such moments of intensity lies in the fact that they anchor us deeply in ourselves and the unfolding of our lives. More than a step, they are a milestone of which we are aware at the time, and can never look back upon later without feelings of sadness, disappointment and failure if they haven't held good: it was important, and we know that something of great value at the time hasn't materialised or lasted.
IT IS IN THIS CONTEXT that we must look at the place we make for children in our societies. Some religions may well celebrate and confirm the role the new child will play in their midst and we have a duty as citizens to declare the birth of the child and its parentage on a certificate, but there is, I believe, a real and urgent need for an official ritual welcoming the new baby or infant in our lives, with an acknowledgement of the nurturing role we shall have to play at least until this child is an adult; of our joy at its arrival and the recognition of our duty in its various forms: CARE, PROTECTION, RESPECT, and of course LOVE.
(Sadly we cannot legislate for LOVE, the necessary bonus.) This would have value as a public gesture, and there is value in example: as Barack Obama said recently, "What we do echoes through generations."
WE CANNOT PRETEND to be uninformed of the often dire conditions in which many children are born and forced to grow up nowadays, when our claims to be enlightened in our knowledge and progressive in our ways could make us think that we are at last treating our children as we should.It is enough to peruse the newspapers at random to get a broad and distressing view of all our failings:
– "ENGLISH CHILDREN ARE AMONG THE LEAST HAPPY." (The Times, 13/05/15)
– "BRITAIN HAS THE MOST CHILD DEATHS IN THE EU." (The Independent, 27/03/13)
– "BABIES BORN POOR IN BRITAIN WILL BE NO HEALTHIER THAN THOSE IN LIBERIA." (The Times 2015) – "ONE IN THREE CHILDREN HAS SUFFERED VIOLENT ATTACK." (The Times 1/01/15)
– "SMACKING SHOULD BE BANNED, SAYS CHILDREN'S TSAR."(The Independent, 28/12/13)
– "TRAFFICKING OF CHILDREN RISES FOR THE SECOND YEAR RUNNING."(The Observer, 1/09/13)
– "WE IMPRISON MORE CHILDREN AND YOUNG PEOPLE IN THE UK THAN MOST OTHER COUNTRIES IN EUROPE. THIS IS IN BREACH OF THE UN CONVENTION ON THE RIGHTS OF THE CHILD." (Sir Al Aynsley-green, Children's Commissioner For England).
– "SEX ABUSE FILE SHUT UNTIL 2056."(Sunday Times, 29/03/15)
It is widely agreed that the State is currently failing in its duty to keep our children's safe. Some of our laws are far from making child protection a priority, and when they do, they are rarely implemented; in Britain, we do not comply with all the terms of The United Nations Convention on the Rights of the Child; our place in international comparison leagues is often extremely poor: the reasons why should eventually be faced and addressed.
AT A TIME IN THE SOCIAL history of this country when we are overwhelmed with stories of lack of care in almost all institutions, widespread neglect and physical and sexual abuse, in spite of the role of well-meaning officials appointed by successive governments, there still remains a reluctance to recognise that children's problems are everybody's business and reflect on us all. As I seek today, 23 January 2019, to update the examples I gave previously, I find online on The Independent an article by Lizzie Dearden, the Home Affairs correspondent, titled:
CHILD CRUELTY AND NEGLECT OFFENCES DOUBLE OVER PAST FIVE YEARS IN UK, POLICE FIGURES SHOW.
SEPARATE DATA SHOWS RECORDED CHILD SEXUAL ABUSE HAS RISEN BY 206 PER CENT SINCE 2013.
Government Spending On Children At Risk Of Abuse Slashed By 26%.
"​CHILD ABUSE PROSECUTIONS DOWN 50%" (The Times 21/01/22) and I think: As a species, what are we? And as individuals in a 'civilised' society: who are we? Even if these figures are due to more effective methods of research, they are damning.We can all dream, but in some cases, thanks to social media and the goodwill of many people, results can be attained that can change attitudes and society.
BECAUSE EACH AND ALL OF US MAKE A WORLD IN OUR OWN IMAGE, I WOULD ASK MY READERS TO MAKE A GESTURE OF HOPE, IMAGINATION AND GENEROSITY, BY SUPPORTING THE 'PROMISE' PROPOSAL FOR CHILDREN IN THEIR OWN LIVES AND SPREADING THE WORD. THIS STORY HAS TOUCHED YOU, PLEASE CONSIDER LEAVING AN HONEST REVIEW ON AMAZON OR WATERSTONES.
DECLARATION OF THE RIGHTS OF THE CHILD
WHEREAS the peoples of the United Nations have, in the Charter, reaffirmed their faith in fundamental human rights and in the dignity and worth of the human person, and have determined to promote social progress and better standards of life in larger freedom, WHEREAS the United Nations has, in the Universal Declaration of Human Rights, proclaimed that everyone is entitled to all the rights and freedoms set forth therein, without distinction of any kind, such as race, colour, sex, language, religion, political or other opinion, national or social origin, property, birth or other status, WHEREAS the child, by reason of his physical and mental immaturity, needs special safeguards and care, including appropriate legal protection, before as well as after birth, WHEREAS the need for such special safeguards has been stated in the Geneva Declaration of the Rights of the Child of 1924, and recognized in the Universal Declaration of Human Rights and in the statutes of specialized agencies and international organizations concerned with the welfare of children, WHEREAS mankind owes to the child the best it has to give, Now, therefore, Proclaims THIS DECLARATION OF THE RIGHTS OF THE CHILD to the end that he may have a happy childhood and enjoy for his own good and for the good of society the rights and freedoms herein set forth, and calls upon  parents, upon men and women as individuals, and upon voluntary organizations, local authorities and national Governments to recognize these rights and strive for their observance by legislative and other measures progressively taken in accordance with the following:
THE CHILD shall enjoy all the rights set forth in this Declaration. Every child, without any exception whatsoever, shall be entitled to these rights, without distinction or discrimination on account of race, colour, sex, language, religion, political or other opinion, national or social origin, property, birth or other status, whether of himself or of his family.
THE CHILD shall enjoy special protection, and shall be given opportunities and facilities, by law and by other means, to enable him to develop physically, mentally, morally, spiritually and socially in a healthy and normal manner and in conditions of freedom and dignity. In the enactment of laws for this purpose, the best interests of the child shall be the paramount consideration.
THE CHILD

shall be entitled from his birth to a name and a nationality.

THE CHILD

shall enjoy the benefits of social security. He shall be entitled to grow and develop in health; to this end, special care and protection shall be provided both to him and to his mother, including adequate pre-natal and post-natal care. The child shall have the right to adequate nutrition, housing, recreation and medical services.

THE CHILD

who is physically, mentally or socially handicapped shall be given the special treatment, education and care required by his particular condition.

THE CHILD

shall be protected against all forms of neglect, cruelty and exploitation. He shall not be the subject of traffic, in any form.The child shall not be admitted to employment before an appropriate minimum age; he shall in no case be caused or permitted to engage in any occupation or employment which would prejudice his health or education, or interfere with his physical, mental or moral development.
7. THE CHILD, for the full and harmonious development of his personality, needs love and understanding. He shall, wherever possible, grow up in the care and under the responsibility of his parents, and, in any case, in an atmosphere of affection and of moral and material security; a child of tender years shall not, save in exceptional circumstances, be separated from his mother. Society and the public authorities shall have the duty to extend particular care to children without a family and to those without adequate means of support. Payment of State and other assistance towards the maintenance of children of large families is desirable.
8. THE CHILD is entitled to receive education, which shall be free and compulsory, at least in the elementary stages. He shall be given an education which will promote his general culture and enable him, on a basis of equal opportunity, to develop his abilities, his individual judgement, and his sense of moral and social responsibility, and to become a useful member of society.The best interests of the child shall be the guiding
principle of those responsible for his education and guidance; that responsibility lies in the first place with his parents.The child shall have full opportunity for play and recreation, which should be directed to the same purposes as education; society and the public authorities shall endeavour to promote the enjoyment of this right.
9. THE CHILD shall in all circumstances be among the first to receive protection and relief.
10. THE CHILD shall be protected from practices which may foster racial, religious and any other form of discrimination. He shall be brought up in a spirit of understanding, tolerance, friendship among peoples, peace and universal brotherhood, and in fullconsciousness that his energy and talents should be devoted to the service of his fellow men.